ClickLearn file management
Introduction to ClickLearn file management
The different ClickLearn files
The hierarchies of the ClickLearn files
Organise your ClickLearn files
Working with several Authors
Introduction
When working with different software products you might have seen different type of files already, such as .pdf or .png, .mp3 etc.
The technical term for this is "File Format"
A file format is a standard way that information is encoded for storage I a computer file. It specifies how the bits are used to encode information that is stored in a digital medium. File formats might be either proprietary or free and can be either open or unpublished.
Inside the ClickLearn Studio we are using a proprietary file formats.
This guideline is made to give you a good understanding of the different file formats in ClickLearn Studio, how to organize them and how to work with them
If you have further questions to this please take a look on our help portal: https://help.clicklearn.com/ClickLearn%20Learning%20Portal/ClickLearn%20Learning%20Portal.htm
Or contact the ClickLearn support.
The different file formats inside ClickLearn Studio
In ClickLearn studio we are using mainly 3 different file formats.
CLRX files for recording
CLBX files for books
CLSX files for shelves
Beside this ClickLearn specific files you will come across some file formats you might already know from your daily work when using ClickLearn Studio.
These are typically:
1.Word files
2. PDF files
3.PowerPoint files
4.HTML files
It is important to know that ClickLearn can only convert files from CLRX, VLBX and CLSX to other file formats and not vis versa, and therefore a good file management is a vital part of a successful Clicklearn project.
The hierarchies of the ClickLearn files
When you are working inside the ClickLearn Studio you are typically using all the 3 type of file formats, and to do so it is important to understand the hierarchies of these files.

The above Graphix explains the general hierarchies of the ClickLearn file formats:
A shelf can contain one or several books
A book can contain one or several Recordings
A Recording typically contains one work instruction (

Work instructions are not a file format and are only listed here to visualize the content)
Due to this hierarchies you only need to produce and publish the highest one inside the ClickLearn Studio.
This means in our example here you just need to produce the shelf and all containing books and the recordings inside the books will be produced to.
To learn more about shelfs and books please see here:
https://help.clicklearn.com/ClickLearn%20Learning%20Portal/ClickLearn%20Learning%20Portal.htm?b=Books%20and%20Shelfs
Organizing your ClickLearn files
When working over a longer period with ClickLearn you might have hundreds or thousands of recordings, books and shelfs at one point.
It is therefore highly recommended to spend a few minutes already at the beginning of your ClickLearn project to decide and design the structure for saving these files.
We would like to provide you a little checklist about what you might to take in consideration when planning the file storage for your ClickLearn project:
Shal several colleagues have access to the files or only me?
How to have my files recordings, books, and shelves backed up? Do I need to involve my internal IT team in this?
How do we share files if needed?
Access rights? Shall every author been able to see all files?
What to do if a member of the ClickLearn team leaves the project or if somebody joins?
From ClickLearn perspective we recommend in general to create a structure that reflects the different parts of the project.
So, a folder structure could be set up like this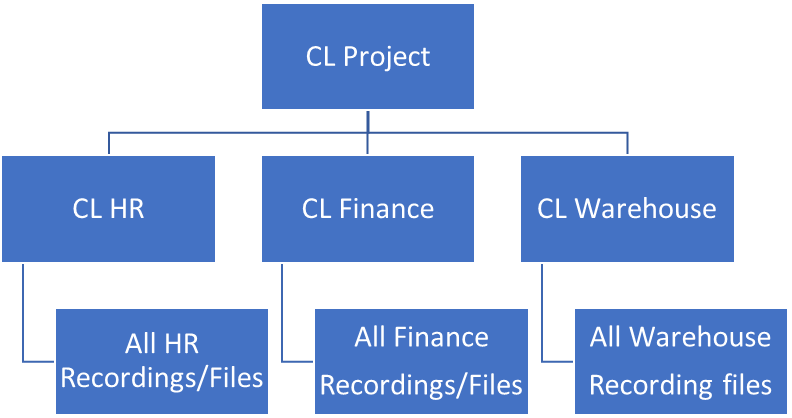 Of course, you are free to choose any other structure that fits to your needs as long as it ensures that in long term view everybody is able to find the required files and information.
Working with several authors
When working with several authors the above topic is even more important as members of the ClickLearn project might leave or join at several points of time.
Let´s go through some scenarios:
A new Author joins the team:
When a new Author joins the team, he or she might need the files another team member has created so fare to edit existing recordings, shelfs and books.
If all files been stored in a dedicated folder, he or she can just open all clrx, clbx and clsx files via the ClickLearn Studio.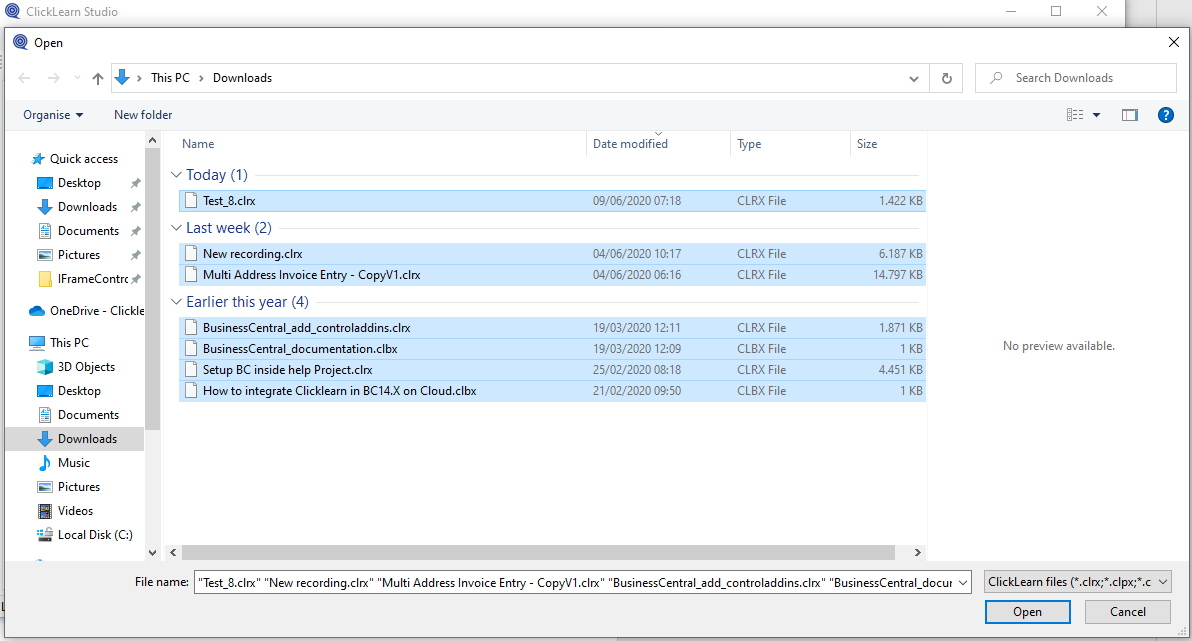 An author would like to edit a recording a colleague has already recorded.
The file can be opened from inside the ClickLearn
Studio and can then be edited.
Here it is important to know that due to technical limitations the author can only add new recorded steps into the existing recording if he or she uses the same screen resolution as the author of the existing recording.
For more information about screen resolution and scaling please see here:
https://help.clicklearn.com/ClickLearn%20Learning%20Portal/ClickLearn%20Learning%20Portal.htm?b=Product%20Documentation&r=Resolution%20and%20scaling
For more detailed information of how to edit work instructions please see here:
https://help.clicklearn.com/ClickLearn%20Learning%20Portal/ClickLearn%20Learning%20Portal.htm?b=Product%20Documentation&r=Edit%20work%20instruction
An author leaves the team:
If an author leaves the team and he or she has saved the different ClickLearn files on his or her Computer locally you  might need to make sure that the files been either been handed over to another Author or been saved on a shared location.