SCORM is short for "Sharable Content Object Reference Model" and is a standard that define the data and information that a learning object contains to be compliant with other systems. 
If you have a SCORM-compliant LMS (learning management system) you can use ClickLearn to create SCORM packages from your content and import them into your LMS. This is useful for reporting purposes and if you need to provide certifications for your users through your own LMS. 
The SCORM packages can be produced on either book- or shelf-level. To do this, you set the SCORM version in the preferences of the book or the shelf. Remember to have the book/shelf open to get the right preferences.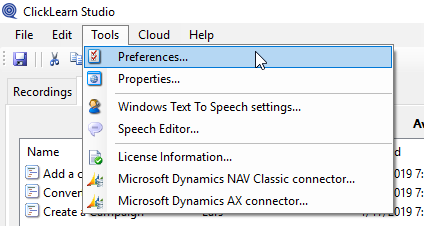 In the preferences you can choose the relevant SCORM type and whether you want to include the HTML video formats. You can also choose to "Forward sequence only" not giving the end users the option of choosing their own sequence.

Once you have made your selections you must produce the book/shelf. You can now see the SCORM package in the file location that you can see in the "Full path" column in ClickLearn Studio.