We are create user documentation for a new Business Central App we have created and Clicklearn is fine for 90% of what we have needed. The issue I have run into is that I have an Appendix sections which explains the theory and examples of the embedded calculations that run in the background. I cannot record the theory using Clicklearn but want to rather embed the word document (10 Pages) into my project so when I publish or produce it includes the word document at the end of the document.
Have not found a way to do this.
Note that I have tried using the Notes functionality but have found that this does not support what I need to do as cannot format effectively and is very time consuming. 
Best answer by Tracy 11 May 2020, 15:43
Hi John!
This can be accomplished by modifying the Word Template used in your ClickLearn Studio.  Reference our article on templates https://community.clicklearn.com/getting-started-with-clicklearn-68/brand-your-content-with-customized-templates-49
The Word Template is found in 3 places inside of ClickLearn Studio by navigating to Tools->Preferences->Templates->Click on the button for either the Recording Template, Book Template or Shelf Template. When the you receive the new window click on Preferences->Template
ClickLearn Customer Care will be happy to assist you as I expect you may have more questions concerning WorkSpaces and Template creation.  Whenever you are ready submit a ticket by  emailing support@clicklearn.com 
I hope this helps in getting you started!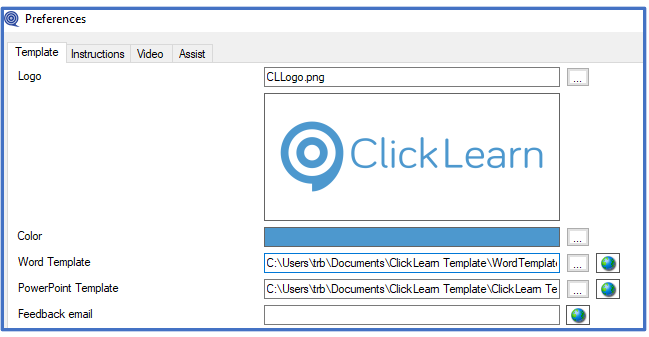 View original